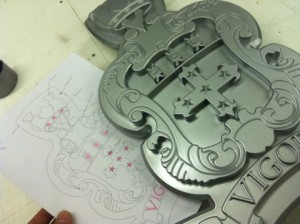 On the right is a photo of a recent project completed for a local interior designer.
The brief was to create a one off custom 3D crest from the designer's simple line drawing, which is shown in the photo.
Using our cnc machine with 3D software, we made the crest in separate pieces of 10mm and 6mm thick Perspex, and sprayed the whole item silver. This is to be mounted above a fireplace in the entrance lobby of a Tudor style hotel.
The client sent me a message saying 'Derek, you and your team never fail to amaze me…….it's fab.'